Tuesday Update 07.18.06
Tuesday Update 07.18.06
Okay, coming at you again with a little update...
Since last Tuesday I have had 2 more shows and then a wedding this past weekend (congrats Stuart and Jen!), so I really haven't even been home until yesterday! I actually managed to add another 1,000 miles to the "Woman Repeller" (my Saturn) last week!
The good new is that I am here until the 27th and I plan on getting a lot done between now and then...we'll see how that goes...
Today I have been catching up on random stuff and booking things for the fall....yadda, yadda. who cares....
The big thing my heart is in as of now is this new song I've been working on! I guess the chorus was from last spring...it came to me in the car on my way back from a show in Alabama. It has been in my head ever since and I finally got to sit down and throw some chords down for the verse when I was in Springfield, MO the week before last. It was quite an accident really.
I was just sitting in this park and enjoying playing my guitar with no real purpose (something I rarely get to do!) and BAM! There was this groove, and then these chords. I found a new shape for an Fadd9 (which I cannot believe I have overlooked!) and suddenly I was really enjoying the shade and the breeze which I had not even noticed until then. As I was jamming I started to feel a melody and began "skat" singing over the chords. I suddenly realized that this transitioned quite well into the Chorus I had been singing for weeks now. It was even in the right key!
I made a few mental notes and threw down a rough recording on my voice recorder before I went to my show that evening. I didn't even get to look at the song again until last Saturday.
I was sitting in my room and had a few extra minutes before I had to leave for the wedding rehearsal Chattanooga (or at least I thought I had extra minutes, more on that later). I picked up my guitar and started toying with a few lyrical ideas. I had some idea of what I wanted to say because the song is about a real situation in my life...I just had to get it into words.
After 30 minutes I had 80% of a verse completed and I was stoked about it! I had it running through my mind all weekend and all I could think about was when I would get to finish it.
I finally got to wrestle with it more today.... and I do mean wrestle. My approach to songwriting is content driven...I know what I want to say, and I have to rise to a new level as a wordsmith to say it. Quite often I fall short in poetry with what I could easily express in prose. (Anyone who has ever written a poem knows what I mean.) I'll have to take one of my songs in the future and pick it apart in a blog for you, explaining the personal process I went through and the various lines that were edited. It will be fun to share and re-live the writing process. Feel free to suggest a song for this!
Anyway,
click here
to listen to a quick clip of the first verse. I recorded it on my laptop mic, so it is rough, but will give you a sneak peak at an upcoming song!
Now, as for my trip to Chattanooga for the wedding rehearsal, I have made the trek a dozen times in the past year and I always remember that Nashville is on Central and Chattanooga is on Eastern time. I even remembered this time, but did the math wrong...idiot! So I am on the road and look at my clock thinking I have plenty of time, then I suddenly realize that I have 90 minutes to make a 2 hour drive just to be there at the start of the wedding rehearsal!!! Long story short, I made it right on time...the poor Saturn...
Now, I must share something that has had me smiling since I saw it. One of my former guitar students took this picture...we'll call him "Blondie" to protect his identity (he's gonna kill me for that)...does that stance look familiar? Hmm...something about that electric guitar, red wall, and head to the side that just looks like I've seen it somewhere before...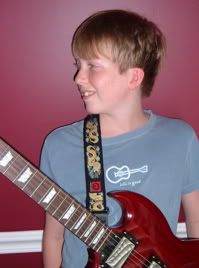 (FYI, it is a myspace joke...go to
www.myspace.com/beaubristow
!)
Okay, that's it for tonight. If you have any pictures with me from a show (or any other occasion for that matter) please send them to beau@beaubristow.com!
Thanks for reading!
Beau