Tuesday Update 08.29.06 (On Wednesday for good reason, but poor discretion...)
Tuesday Update 08.29.06 (On Wednesday for good reason, but poor discretion...)
Yeah, I know....today is Wednesday....not Tuesday....but I have good reason...I'll tell you at the end.
Now, for the week in review:
Last Wednesday was the second of two band rehearsals as I prepared to take the Beau Bristow Trio on its maiden voyage.
Thursday was it's christening as we set sail for Georgetown. The show was a lot of fun and my friends in the audience gave an intimate touch to a rocking set.
Friday we played an outdoor festival in Bardstown, KY. I never know what to expect going into these situations. It's like pulling down that trap door/ladder thing that goes to your attic, you know, the one that knocked Chevy Chase out in National Lampoon's Christmas Vacation. You never know what is going to jump out at you, but you are braced for the ladder, an anvil, 3 rats, a raven, a spider riding a snake, and maybe a vampire or two.
Well in this case, we were in a park that had a playground, a pavilion, and a grassy hill around the front of the pavilion...not exactly a stage, lights, and screaming fans.
We set up as. one by one. people began to roll in with their lawn chairs. By the time we were ready to go we were surrounded by a hill of 100+ men and women. Now my typical audience is high school and college students....add 40 years to that demographic and you will get an idea for what the audience was like in Bardstown. Honestly, I was a little nervous. Could I connect? This was something unfamiliar, out of my element. I took a deep breath, braced myself and began....
Long story short, we played two 45 minute sets and had a much better than expected response...however, they did say the drums were too loud, which makes Lee the first drummer ever to overpower an outdoor audience without even going through the audio rig...I had him turned completely off! Way to go Lee...
Lee Holland (drums) and Caleb Mundy (bass) added more than I can tell you about here, and so I am happy to tell you that we are now booked for a huge festival in Georgetown, KY on 9/23! Be looking for details soon!
Now, fast forward to Monday night: Curb Café at Belmont University in Nashville. I get through maybe two songs in my set and am confronted with something that I still can't get out of my head. I have been waiting on the photo so I can share the horror with you in this blog, but I didn't get it until today.... that is why I am a day late... brace yourself...
(The picture is edited and the names are withheld to protect the indecent.)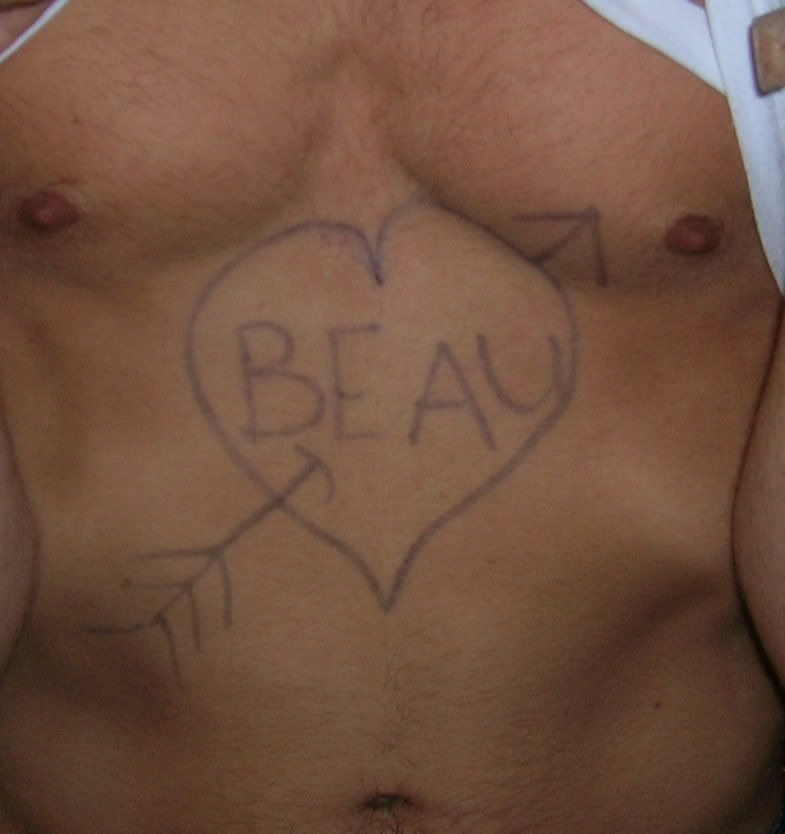 Happy Wednesday!
Beau