Tuesday Update 09.12.06 (6 shows in 3 days, gas prices, silly Don Gato)
Yes! That's right. I still have over 5 hours to get this done as a legitimate Tuesday update.
Where to begin?....
Okay, last weekend had me in Peoria, IL then St. Louis then Memphis. I must say that the Bradley University show rocked! Thanks to everyone who dropped in to listen. And to Ashley, Mike, Brian, and the rest of the guys that hung out afterwards: you are a blast. I'm already looking forward to next time!
In Memphis I walked in right before the show (after a brief pre-show nap in my car) and to my surprise there was on of my former guitar students! Daniel had a soccer tournament all weekend and so he was already in Memphis and decided to drop into the show...thank Daniel!
(Random fact: I am currently listening to Bruce Springsteen.)
Sunday I was in the studio all day finishing up "Don't Get Too Close To Me." It will be released to my street team in the next 2 weeks and I'll be sure to post a short clip of it in my blog next week.
As for this week, I will be leaving Thursday for 5 shows in 3 days! Intense! I am rehearsing with the trio tomorrow because they will be with me in Georgetown, KY this Saturday.
Things to be looking for:
If you are in the Dayton area then listen for me live on air at WUDR 99.5FM (University Of Dayton) at 3:00 this Thursday! (That technically makes 6 shows his weekend, but who's counting?)
If you are a student at the University of Miami in Oxford, OH then there may be an interview in the school paper this week. (It's still in the works)
If you are in Lexington, KY at UK then you will definitely want to check out an interview in the Kentucky Kernel this Friday! Special thanks to Whitney for this!
And once again, you can catch the Beau Bristow Trio at the Festival of the Horse in downtown Georgetown, KY at 11:00 AM Saturday.
Now for the best part of last weekend: I got gas for $1.99/ gallon in the middle of nowhere Missouri! I had to drive a mile from the interstate and they only accepted cash, but it was awesome!
So, in case you are wondering about Don Gato....well I have an update. In the words of his owner (my manager Matt):
"Apparently Don Gato likes water. He chose to jump into an empty bathtub, after which we turned on the water and began to fill up the tub, and he just stood there until he was walking around in neck deep water (and enjoying it). So there you go… crazy cat."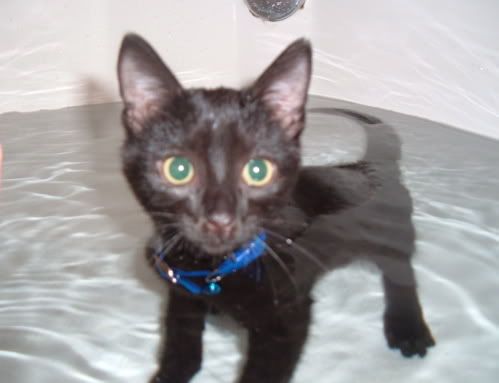 So there you go! Until next week....
Beau